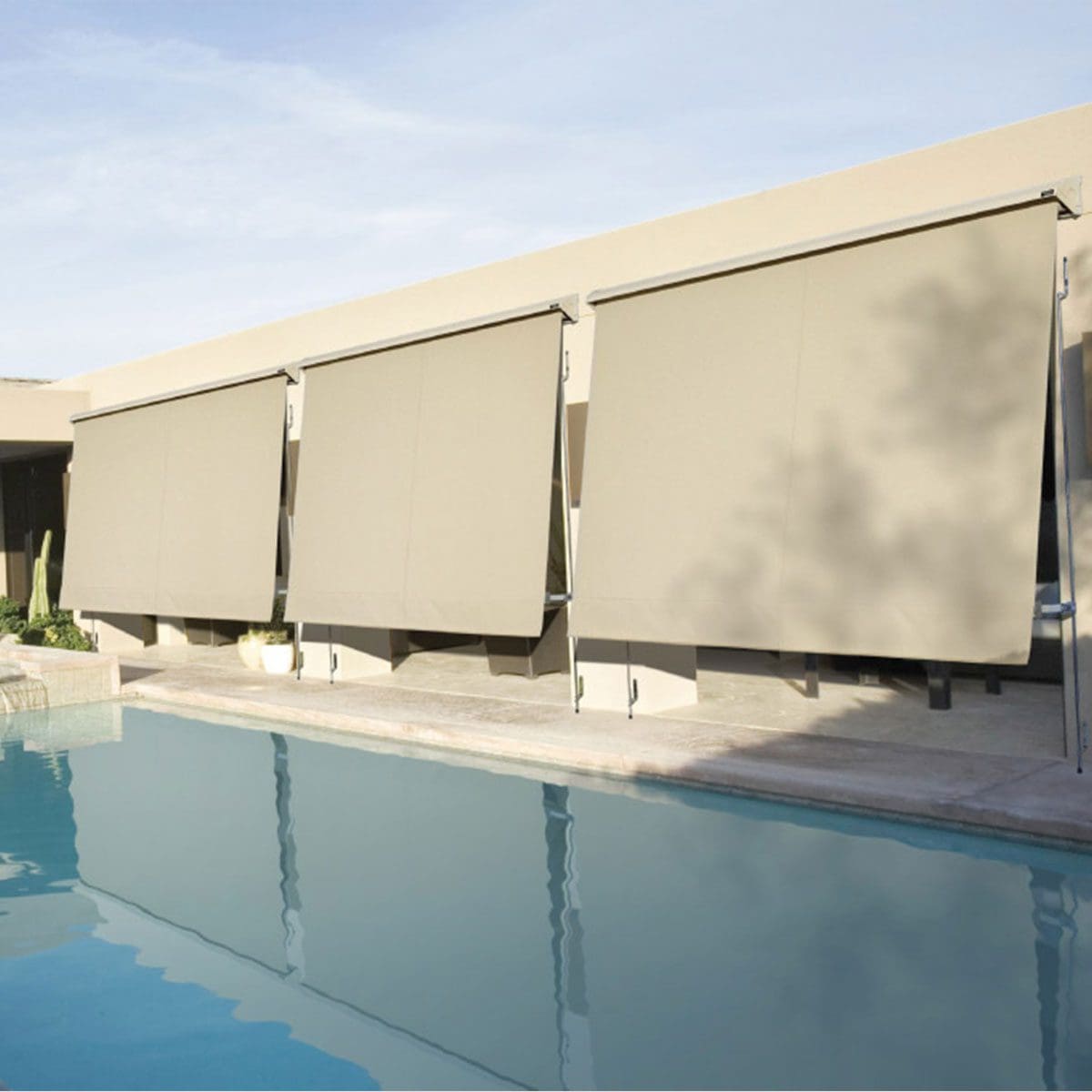 Benefits of Outdoor Awnings
As a homeowner, you're probably familiar with the concept of awnings which have and continue to be a great option to provide additional climate control and privacy around the home. A far cry from those old school striped awnings over windows from the 1970's (although still an option!), there are now so many options to suit the modern home. There are many benefits to having an outdoor awning installed on your home or business – from protection from rain, heat and harsh weather conditions, to improved energy efficiency and even increased privacy- there are a lot of reasons to consider them. In this article we'll explore the many features and benefits that awnings can offer and why so many of our clients in the Macarthur, Wollondilly and Illawarra areas are still choosing to install them around their homes. Each and every one of our awnings are custom made to size, with the fabric, colour and hardwares you have selected to perfectly match your space.
Stylish, functional and Aussie made!
Awnings are not just an attractive and stylish addition to any space, but offer a range of practical benefits too. There are an array of awnings available, all of which provide excellent weather protection for large areas and allows you the flexibility to control when you'd like that additional protection, or just let the weather flow through. At Fusion Shutters and Blinds, all our awnings are proudly Australian made & owned, manufactured in Western Sydney and come with a 5 year warranty. Our focus has and always will be on quality, with countless customisable shade options in different fabrics and colours to choose from, most of which can be viewed and selected at our Smeaton Grange Showroom. Some of our options include:
Aluminium Framed Dutch Hoods & Cupola's – Although this is an older style of awning, it's still available for custom orders and serves its purpose well. They're low maintenance and offer a huge selection of fabrics.
Zipscreen Extreme – Designed to enhance outdoor living, the Zipscreen Extreme seamlessly fits into almost every alfresco, pergola or balcony to provide year-round privacy and protection from the sun, rain and insects. With span capacity of up to 7m and with motorised, gearbox or spring operation available, they're a great choice.
Spring Loaded Straight Drop Awnings – These are a robust, low-maintenance design offering a drop of up to 3.0m. Their quick and easy installation and easy pull-down operation (no crank handle required) make them a go-to for balconies, windows and more.
Pivot Arm Awnings – These awnings provide excellent heat protection, are cost effective and offer many standard colours to choose from. Their quick and easy operation and installation make them a simple but incredibly effective way to block out heat and control light. With Hamptons-style homes popping up in suburbs like Wilton, Oran Park, Gledswood Hills and some suburbs around Wollongong, they're a great option due to their easy install on weatherboard and clad homes.
Check out our gallery below for a small sample of some of the installations we've recently completed.
Light & Heat Control
An outdoor awning can be an effective and stylish way to protect you from the summer heat. Awnings block direct sunlight, reducing the amount of heat that is absorbed into your home and avoids heat transfer from outside to inside. Being easily retracted whenever you need, they provide an effective shade that limits excessive solar exposure in summer months but without compromising natural lighting during other times of year like in winter, when you want the warmth to shine in. Not only can they keep things cool in those western areas of the home which might cop the brunt of the afternoon sun, they can also improve the look of your home by creating inviting spaces to relax during those hot days, like in your outdoor alfresco, balcony or pergola. On top of this, they have the potential to save energy – by providing natural ambient shading for windows and doors, awnings can help reduce your home's cooling costs.
Weather Resistance & Privacy
Outdoor awnings offer great protection against inclement weather such as rain and wind, keeping you and your property safe from the elements. They are custom made to fit the size of your windows and outdoor areas, ensuring that you have the right protection where and when you need it. Outdoor awnings are also incredibly durable, so they will remain in excellent condition despite being exposed to harsh weather conditions. In addition, awnings can be an affordable way to increase privacy around the home, giving you the chance to spend more quality time in your space with friends and family without worrying about nosy neighbours. With a variety of styles and fabric options available, you'll be sure to find something that fits perfectly with your home.
Outdoor awnings are an easy way to upgrade the look of your exterior space while enjoying all the convenience and comfort they bring. So if you've been looking for a smart and functional way to improve your home's curb appeal, awnings may just be the perfect addition. To view our range of options or to speak with one of our team about obtaining a free quote, simply give us a call or send us a message and we'll be in touch. Our Showroom is conveniently located in the South West Sydney Macarthur Suburb of Smeaton Grange.