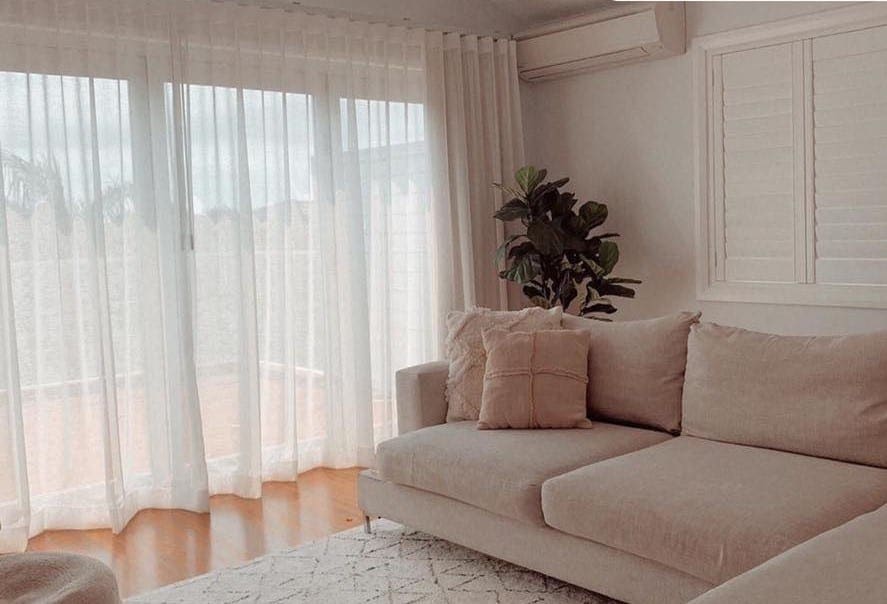 Why choose Sheer Curtains for your home?
Sheer curtains are becoming a popular choice in window treatment for many homes, and it's easy to see why. Not only do they look fantastic in the way they can soften a space, they are functional – providing a sense of privacy while still allowing natural light to flow through the windows and/or doors. Sheers come in a variety of colours and styles, so you can find the perfect option to match your home's décor. In this article, we will briefly outline just some of the benefits of using sheer curtains in your home and offer some tips on how to choose the right ones for your needs.
Benefits of Sheer Curtains
There are many benefits to choosing sheer curtains for your home, with the most obvious being the aesthetics – they are a great way to soften a room, add texture and movement, and can give the appearance of height when installed from just below roof height across sliding doors. They are a great way to blend the transition from outdoor to indoor living areas, and with the variety of colours and materials available, there is an option to suit whatever the colour scheme and/or surrounding décor in your home.
In addition to the aesthetics is their functionality when used in the right space. You may have areas in your home that attract beautiful sunlight yet lack some privacy. Sheers can help hide any unsightly views or filter out the watchful eye of your neighbours, whilst also minimising glare. Most of our sheer curtains are made from polyester which is a cost-effective fabric that's easy to maintain – simply shake out dust when needed or wash on a gentle cycle with a mild detergent.
Tips for Choosing Sheer Curtains
When choosing sheer curtains for your home, there are a few things to keep in mind. First, consider the amount of natural light that you want to let into the room. If you want to maximize privacy, choosing a fabric that is slightly more opaque might be your best option. However for a light, breezy, outdoorsy feel that lets in maximum light, yet provides some privacy, then a lighter style fabric would suffice. Sheers can also be layered with other curtain options to allow you flexibility – for full privacy you could layer with a more heavy material that can be pulled across of a night time for instance, yet leave them pulled to the side during the day showcasing the sheers.
In terms of colours, taking into consideration the surrounding décor is a given, but also bear in mind that if sheers are used in a well-lit room, then whatever light goes into the room will be filtered through the curtains- so if you choose a coloured curtain then you can expect the light to also be coloured to some degree. Similarly with a patterned sheer fabric.
Whilst sheers are becoming a statement piece in the living rooms of a lot of new houses we have had the pleasure of supplying to – like our recent project in the Illawarra suburb of Albion Park, it's important to consider whether letting the natural light flow in can actually end up being a nuisance, with a strong glare or reflection on televisions for example, becoming quite annoying. In instances like this, teaming sheers with other blinds or shutters is recommended.
If you're ever in doubt as to whether this on-trend curtain option is the right choice for your home, you can schedule a visit to our showroom conveniently located in Smeaton Grange in Sydney's Southwest. Here you can view our variety of window coverings, styles and fabrics, to tailor a solution that best fits your needs, lifestyle and budget. Our team service all of Macarthur, Wollondilly, the Southern Highlands and the Illawarra and would be happy to provide an obligation free quote.