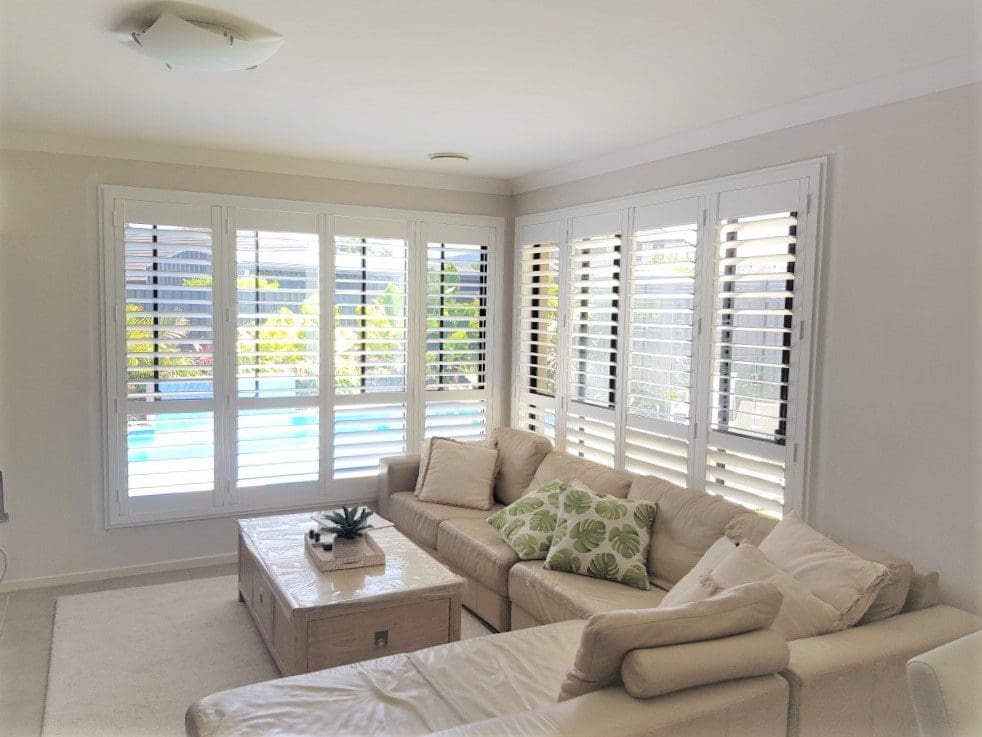 Why Polymer Plantation Shutters are still as popular as ever
You will find them in more homes than not and the trend isn't going anywhere anytime soon! There's just something about plantation shutters that exudes classic style and elegance, so it's no wonder they remain as popular as ever, despite the many window covering options available today. These stylish window treatments are a cost-effective way to boost aesthetically pleasing décor as well as improving energy efficiency, providing a practical solution for the many homes we've had the pleasure of installing them in throughout greater Western Sydney and the Illawarra. So here's a look at why plantation shutters – in particular polymer Shutters – are such a desirable option for homeowners.
They're made from a high-quality, durable material that will last for years
If you've been searching for reliable plantation shutters with lasting value, look no further than polymer shutters. Polymer plantation shutters are made from the highest quality material and designed to stand up to your everyday needs in any room of the house. Fusion's own Allure Poly shutters are water resistant, meaning they can not only transform your living areas, but your bathroom and kitchen too! They have the aesthetic appearance of real wood, they're fire retardant and are made from a solid, non-toxic, recyclable material. Housing an aluminium core that provides increased strength and durability, these blades won't crack, split, chip or warp, ensuring years of reliable protection and utility.
They're easy to clean and require very little maintenance
Polymer plantation shutters are a great addition to any home, providing both privacy and style. They are also incredibly easy to care for; no special solutions or sprays needed. In fact, all these shutters need is a regular dusting with a soft cloth or feather duster. With no warping, cracking, or fading over time, these shutters are an ideal window treatment option for those who want minimal maintenance.
They can increase your home's resale value
Plantation Shutters offer a unique opportunity to increase the resale value of your home. Not only do these shutters look great and can be used on any type of window or door, they are designed to last for many years without needing repairs or being replaced, making them an excellent, on-trend investment.
They're available in a variety of colors and styles to match any home decor
Polymer Plantation Shutters are a great way to add some style to your home. They come in a range of different colors and configurations, from traditional white shutters to some more bolder colour options available in our range of 13 standard paints. In addition, there is a choice of 3 different sized louvres, custom designed and manufactured in hinged, channelled, folding, sliding or special shape. So whether your home is modern or traditional or you have some unique areas to cover, you can find the perfect options to suit your space. They're not just for decoration either – plantation shutters are also effective at managing light and airflow throughout a room.
They provide excellent privacy and light control
Plantation Shutters offer the best of both worlds when it comes to privacy and light control, both of which can be adjusted simply with the flick of the wrist. By effectively filtering out sunlight in those particularly sunny areas of the home, they can help to reduce energy costs from air conditioning use, and in the winter, they can aid in the insulation of heat- practical but stylish!
So in summary, we have outlined why we believe polymer plantation shutters are an excellent choice for anyone looking for high-quality, durable window treatments and why they still remain by far our most popular option here at Fusion Shutters & Blinds. They are easy to maintain, come in a variety of colors and styles to match any home decor, and provide excellent privacy and light control. Being both stylish and durable, they are a great investment for your home- why not come and see our range for yourselves? Our showroom is conveniently located in Smeaton Grange which is in Sydney's South West Macarthur region.