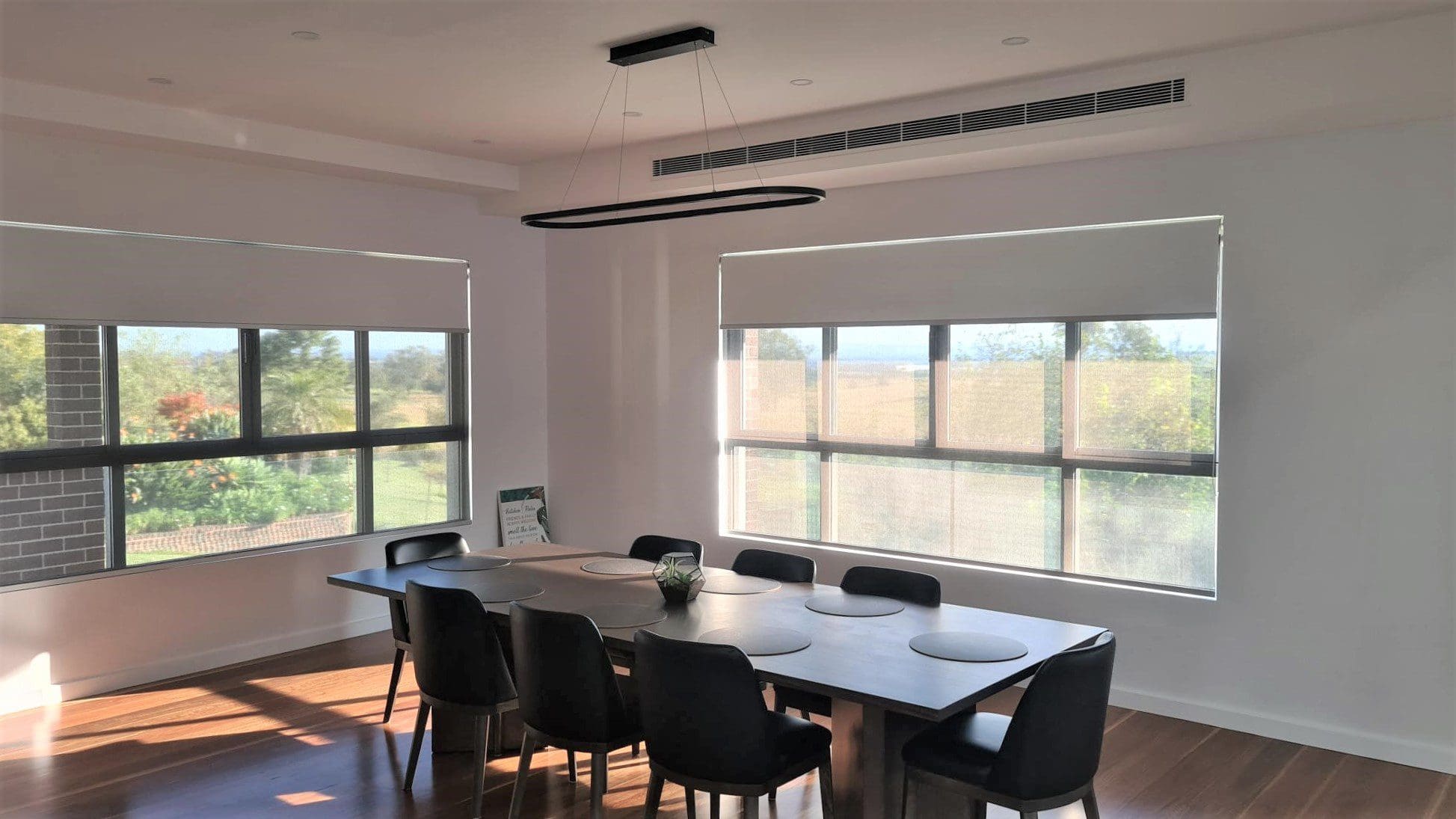 Why Roller Blinds are still very much IN
Used extensively in both residential and commercial settings, Roller Blinds are a versatile, affordable and easy to operate window covering providing privacy, light control, and insulation. With an expansive range of colours, textures, patterns, pelmets, chains, and bottom rails, the combinations are almost endless when it comes to tailoring your roller blinds. The ability to mix and match ensures the end product has truly been tailored to suit your home. In this article, we will revisit why Roller Blinds are still such a popular choice for homes and businesses in the Macarthur, Wollondilly and Illawarra areas.
Flexibility in Light Control
One of the biggest selling points with Roller Blinds is the flexibility they allow with the amount of light you can filter into the room, with "Dual Rollers" or "Double Rollers" becoming an increasingly popular option. This entails two separate rolls on one double bracket, allowing you to select a translucent or sunscreen fabric for daytime use and a block out privacy fabric for night.
Fully Cassetted Options
Like the neat and tidy look with no light creeping through the edges? Then a fully cassetted roller blind is the perfect solution. This combines a roller blind with side channels and a headbox to conceal the edges of the blind, effectively blocking out all light. This makes them a great choice for rooms in the house where you want complete darkness – like home theatre rooms and bedrooms. This added concealment also adds to the thermal protection in the room and also protects the fabric from dust and wear and tear when it's neatly rolled into the headbox.
Motorisation by App Control
Who doesn't love the luxury of a simple push of a button or voice command and voila- your window coverings control themselves! Most people are often surprised to know that roller blinds can now be teamed with motors from Somfy, allowing you to control your blinds using a remote control, tablet or smartphone via their app, or even voice assistant- by integrating with Alexa or Google Assistant. Gone are the days where roller blinds were a simple low-tech solution. You can now deck your window coverings out with a smart solution to suit your modern lifestyle.
Aesthetics & Functionality
There are quite literally hundreds of colours, textures and patterns available in our roller blind fabric options so there is bound to be a combination to suit whatever your home's décor. They are also a popular choice to team with other window furnishings, such as Sheer Curtains for a more modern, soft look but with the added benefits of light blocking and privacy. And being an affordable option means you can have your cake and eat it too if you want both. Aside from aesthetics though, they are easy to maintain- with a quick wipe over with a damp cloth, the dust is removed.
So there really is a lot to love about Roller Blinds. Far from becoming out of fashion, they are not only a practical and affordable solution in the home setting as well as in businesses or commercial properties, they have also come a long way in blending seamlessly with our modern day smart technologies. If you would like to discover what options might suit your needs, lifestyle and budget then contact our team today. Our showroom is conveniently located in Smeaton Grange and our service areas cover from South West Sydney to the Illawarra and its surrounding suburbs.