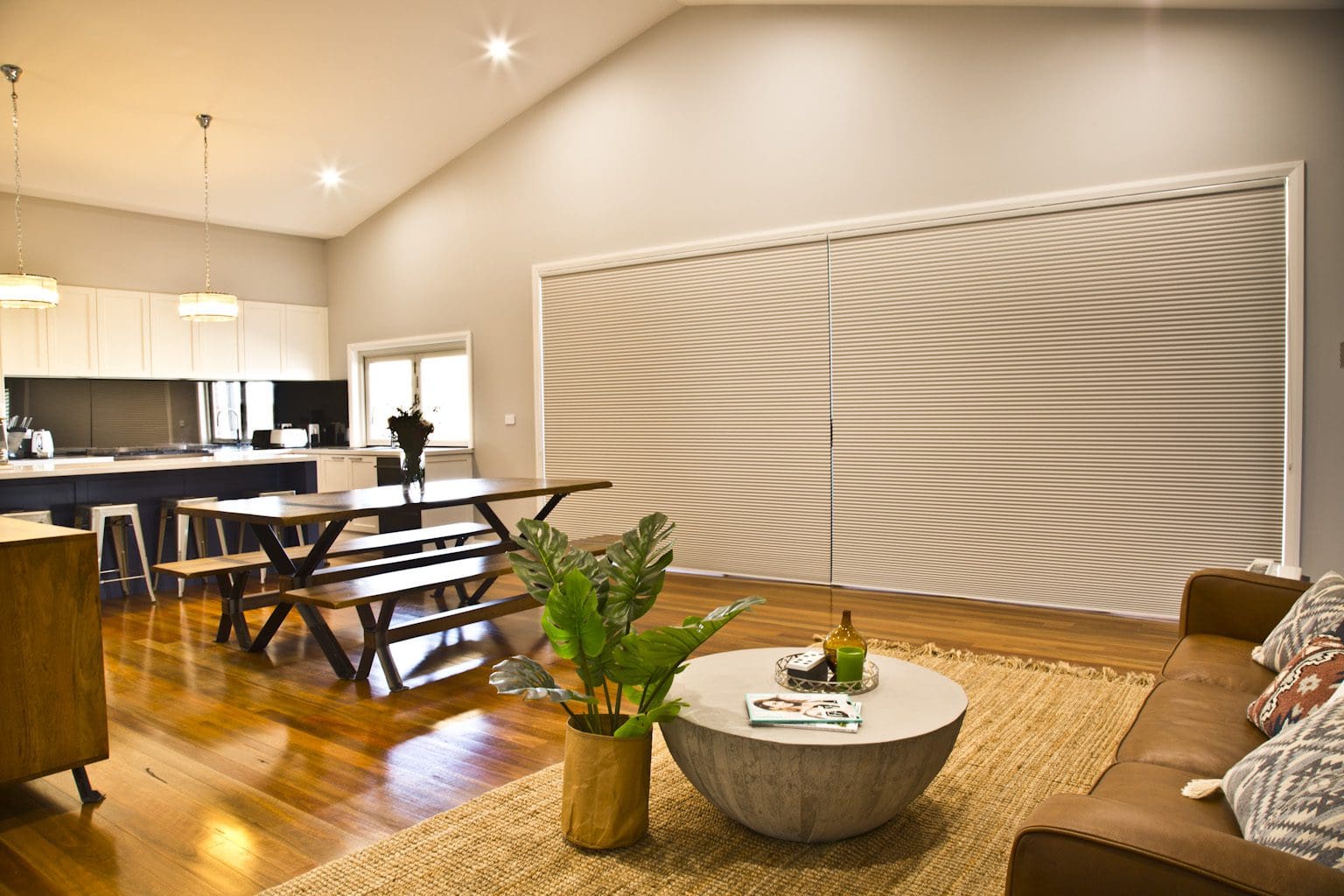 The Versatility of Honeycomb Blinds
Traditional styles of blinds still remain a popular choice for homeowners when considering a window or door covering, and for good reason. One option that remains a top recommendation to our customers in the Macarthur and Illawarra areas here at Fusion Shutters and Blinds is Honeycomb blinds, due to their versatility in the many settings they're often used, not to mention the huge array of colours and fabric options available. In this article, we'll outline why they still remain one of our most trusted and recommended blinds ranges, along with some exciting new innovations now available.
Features of Honeycomb Blinds
Honeycomb blinds are composed of a cellular design that maximises energy efficiency and
insulation. A cellular structure creates a pocket of air which naturally reduces the transfer of heat, making our honeycomb blinds a great insulator in those rooms of the house that may cop the heat of the afternoon sun, helping to reduce energy bills.
They are manufactured from a high quality polyester fabric and come in a variety of cell sizes, textures, colours (47) and fabrics including translucent, block out and double cell, so there are options to suit all comfort levels and styles. Cell size options are 25mm single cell, or 38mm in single or double cell, with the double cell blockout combination offering the most thermal resistance.
With 8 control options to choose from- including cordless, top down/bottom up and motorised, depending on whether you're looking to cover a window or door, and in what space, there are options to suit all needs and areas. You can refer to our brochure for more information on all options available, or schedule a visit with one of our friendly team at our showroom in Smeaton Grange.
Combining aesthetics with functionality
Our Honeycomb blinds have a uniquely slimline head rail which is perfect to fit inside windows with little or no reveal depth, meaning the tight fit into the window allows for maximum coverage with a minimal gap on each side. This is another reason why Honeycomb blinds are still a popular choice, offering complete darkness in rooms where you really need it.
One of the latest innovations from Fusion Shutters and Blinds is the combination of our Honeycomb Blinds with our Polymer Plantation Shutters- meaning if you love the look and appeal of Shutters but want a blissful night's sleep without moonlight, streetlights or even sunlight (for those shift workers) making it's way through the cracks, then the combination really ticks all boxes.
Called our 'Allure Nightfall' range, we were excited to complete this recent project in Sydney's South West Macarthur suburb of Currans Hill. The customer was thrilled with the end result, in that the Honeycomb blind can be completely opened allowing you to maintain the view through the shutter blades when desired. Yet once the blind is pulled down and the shutter blades closed, you receive maximum privacy and of course, the darkness of Nightfall. This winning combination is available in 12 Shutter paint colours and 6 Honeycomb fabric colours, so you're sure to find the perfect combination to suit your room.
If you'd like to explore the many benefits and combinations available in our Honeycomb blind range to determine whether they're the right choice for your home, schedule a visit with us today- we service all of South West Sydney and the Illawarra and can provide an obligation free quote. Call us today to arrange a time.