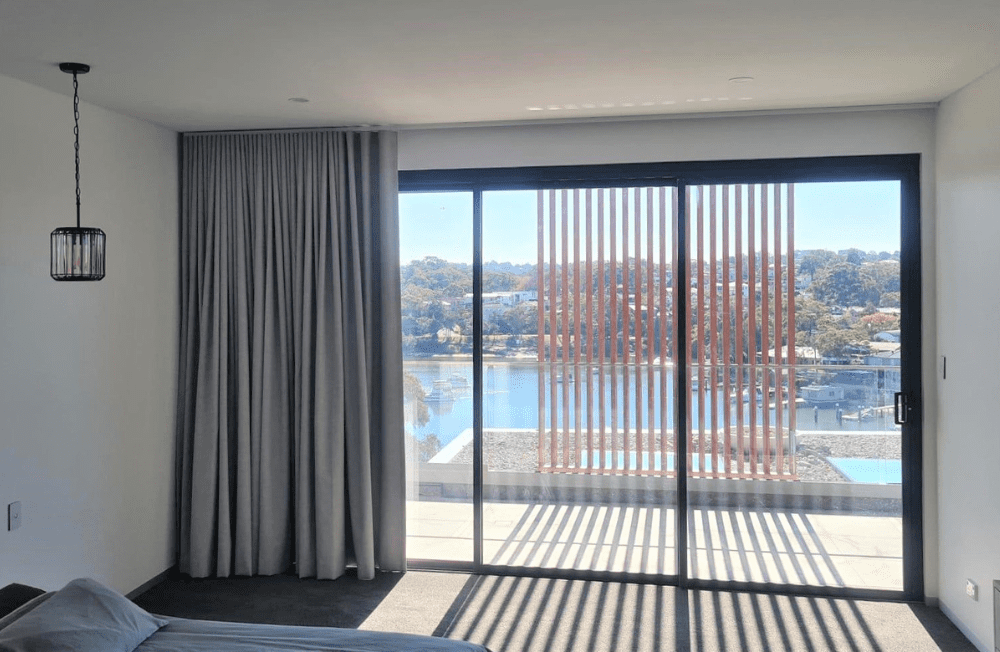 What are the best solutions for covering Sliding Doors?
This is such a common question we get here from homeowners in the local Macarthur area, and when it comes to finding the ideal solution for covering large sliding doors in homes, it's not just about privacy or blocking out sunlight. Homeowners want their window treatments to reflect their personal style and add a touch of elegance to their interiors. Fusion Shutters and Blinds offers a plethora of options suitable for any homeowner's unique preference. Let's dive in and explore the best solutions for your sliding doors.
Soft and On-trend
For the contemporary homeowner, a light and welcoming space in usually their top requirement! The following are our best recommendations;
Allure Breeze: The beautiful Allure Breeze is a vertical sheer comprised of hanging strips of folded fabric, offering the flattering light filtering benefits of sheer material combined with the practicality of vertical blinds. Designed with elegance in mind, this option offers a graceful touch to large sliding doors with a myriad of colour and fabric options available. A choice that is certainly growing in popularity, and the epitome of luxury.
Curtains: There's a reason why curtains have remained popular over the decades. They bring a touch of class, warmth, and effortless style to any room. Fusion Shutters and Blinds offers a range of curtain styles that can drape gracefully over your sliding doors, ensuring that the aesthetics of your space are elevated. With hundreds of sheer and block out fabrics to choose
from, you're bound to find the perfect solution.
Sleek, Modern, and Clean
For the homeowner who prefers a neat and polished look, the following are our top recommendations;
Panel Blinds: With their wide, flat fabric panels, they glide effortlessly to stack neatly behind one another, providing easy access through your sliding door, with great privacy and light filtering qualities. They offer a clean and simple
design that perfectly complements a modern home, and are great for those common areas where you regularly use or open the sliding doors.
Sheer Elegance Blinds: Also called Zebra or Transitional Blinds, they merge the beauty of a sheer fabric with the practicality of an opaque roller blind. The fabric layers alternate between sheer and opaque, providing utmost control over light and privacy. They're a beautiful way to bring a modern and luxurious feel to any space and their span can cover large areas over sliding doors.
Budget-Friendly Options
If you're seeking style without breaking the bank, these are your go-to options:
Vertical Blinds: These are a classic choice for sliding doors. They're practical, easy to operate, and versatile in terms of light control. With Fusion's range of fabrics and finishes, you can be assured of a solution that's both affordable and stylish. Available in a variety in 89mm and 127mm blade sizes, these easy to clean blinds come with wand or chain control. Vertical blinds are great over sliding doors, covering a wide span with one control.
Roller Blinds: Functional and aesthetically pleasing, roller blinds are perfect for those on a budget. They offer a minimalist look and are effective in controlling light and privacy. They're easy to maintain and operate, making them an old favourite with both the team at Fusion Shutters and Blinds and homeowner's alike. With an expansive range of colours, textures, pelmets, chains, and bottom rails, the combinations are almost endless when it comes to tailoring your roller blinds.
Sliding doors don't just have to be a functional element in your home. With the right window treatment, they can become a stylish focal point too. Fusion Shutters and Blinds offers solutions for every taste and budget, ensuring your sliding doors are not just covered but adorned in style. Want to see for yourself what vast options are available? Why not visit us at our Showroom, conveniently located in Sydney's growing South West Macarthur area at Smeaton Grange. Our team are on hand ready to consult with you on the best solution for your needs, taste and budget and can provide a complimentary quote.