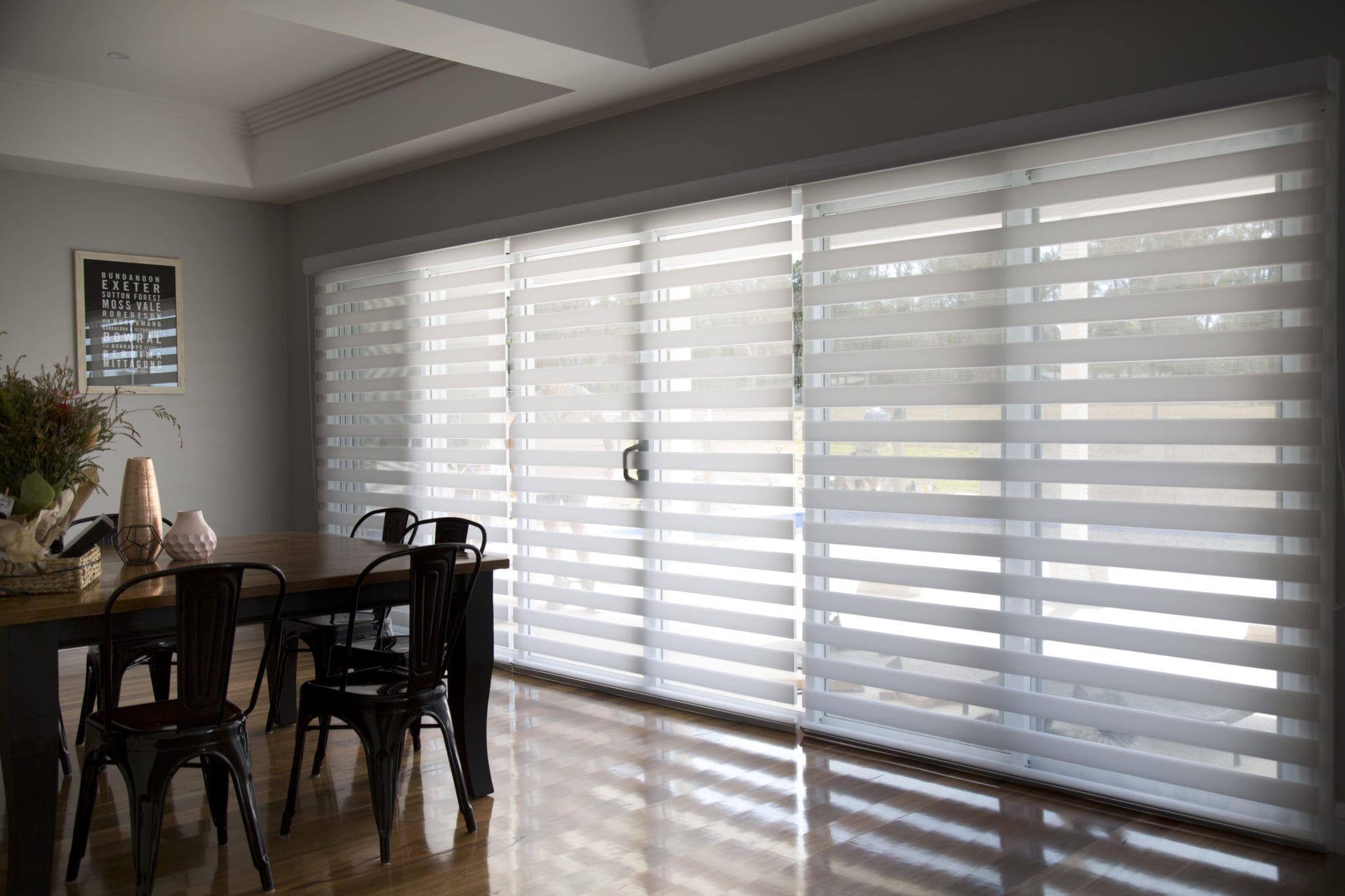 Why Sheer Elegance are a great modern choice in window coverings
Our Sheer Elegance range of blinds, also known as "Zebra Blinds" or "Transitional Blinds" are the epitome of innovation, style and functionality combined. Structurally, they are very similar to roller blinds, however they are uniquely made from lightweight sheer fabrics that combine opaque and mesh fabric panes to form a double layered blind. This results in having different layers to move, creating different levels of light and privacy depending on whether the strips overlap or not.
There are many benefits to these blinds which is what makes them a popular choice for homes throughout the Sydney area, namely:
Aesthetics
As opposed to regular roller blinds, the multi-faceted and cleverly designed double layers of a zebra blind will not only impress your visitors but add an extra element of sophistication to the look and feel of your window coverings. And with a choice of over 100 different colours/ranges, you're sure to find an option to eloquently compliment your home's decor.
Design & Functionality
Either block the light completely, let a little sunshine through, or open them up to see the world go by – the choice is yours with Sheer Elegance blinds and with the fabric panes running horizontally as opposed to vertically like traditional vertical blinds, this adds a unique design element to your home. With chain operation or motorisation available, there is something to suit everyone's needs and budgets.
Low Maintenance & Durable
"Zebra Blinds" are very easy to clean and can simply be wiped down with a soft damp cloth if and when dust becomes present. With the fabric type being high quality translucent sunscreen and/or solid blackout, there is no concern for loss of quality or colour fading. And with strong, hard-wearing steel tubes in the bottom rails, you can be rest assured of the durability if you have kids or pets in your home.
If you need some further guidance on whether Zebra Blinds are a good choice for your home, simply visit our showroom for a demonstration and to browse the many fabric options available. Fusion Shutters and Blinds are conveniently located in Sydney's South West suburb of Smeaton Grange, right by Narellan, Camden, Harrington Park and the ever expanding Gregory Hills area, with the team able to provide installation services across the greater Sydney and Illawarra areas.