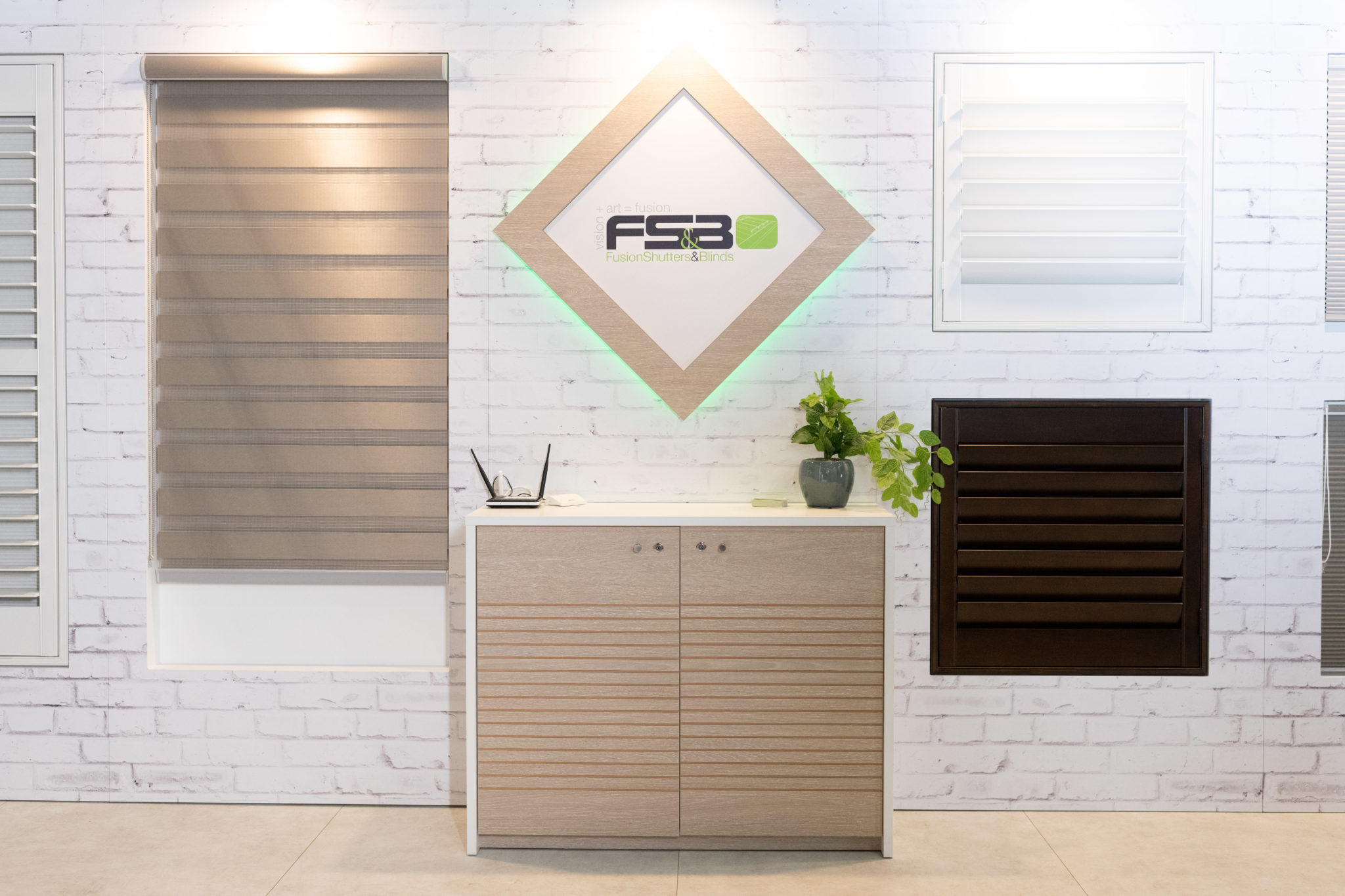 Discover a World of Window Fashion at the Fusion Showroom
Welcome to our 170 square meter fusion showroom, your one-stop-shop for all your blinds, shutters, and curtain needs! Conveniently located in Smeaton Grange just off Camden Valley Way in Sydney's South West Macarthur region, our fusion showroom showcases a diverse range of products; from Plantation Shutters to Roller Blinds, Vertical Blinds, Panel Blinds, Awnings and much more. We invite you to immerse yourself in our diverse range of options and discover the ultimate blend of style, functionality, and innovation at the fusion showroom.
Looking for Plantation Shutters?
Easily still an incredibly popular option amongst homeowners for their style and practicality, we have a full range of plantation shutters on show. You'll find Plantation Shutters in various colours and materials including Polymer, Basswood, Aluminium, Wildwood, and Nightfall, a testimony to our extensive offerings. We also help you understand the different ways a shutter can be configured to best suit your space – regular hinged shutters, fixed in a channel, sliding, folding, or even special shapes are all possible with our range of custom-made solutions. Our aim is to ensure that our products adapt to your space, however unique it might be.
Blinds for every space!
With every homeowner's taste and needs being different to the next, you might feel Blinds are more up your alley. On display at the fusion showroom are a selection of Roller Blinds, Vertical Blinds, Panel Blinds, Honeycomb Blinds and Illusion Blinds to cater to all your needs and aesthetic preferences for your indoor spaces. And for the outdoors? At the fusion showroom you can explore our selection of awnings including motorised Zipscreens, crank-operated Zipscreens, and a Multi-Stop (hand operated) awning, adding the final touch to your perfect home exterior.
Perhaps one of our stand-out products is our Zipscreen range – outdoor blinds that flawlessly merge practicality with style. And be sure to use our handy colour chart to match your existing exterior window and door frames with your new awning hardware or screens. Choose from all standard steel colours like Surfmist, Paperbark, and Woodland Grey for a harmonious look.
Softer Solutions with Curtains and Vertical Sheers
If a softer look to your window and door coverings is what you're after, then you need not look elsewhere. Browse through our curtains section to find an array of fabrics, designs, and styles, from total block-out options to timelessly elegant Sheer curtains. The fusion showroom is updated with the newest range of fabrics for all our products, letting you stay abreast with the latest trends. With a robust collection of curtain fabrics from some of Australia's leading soft furnishing suppliers, including Hoad, Nettex, and Wilson Fabrics, our showroom assures you endless choices.
But what are Vertical Sheers you ask? Our newest addition- the Allure Breeze- is becoming incredibly popular and for good reason. These vertical sheer "walk-through curtains" are on display in various colours and patterns. This trending piece adds an extraordinary charm to any sliding door and combines the practicality of a blind with the aesthetics of a sheer curtain – the best of both worlds!
Experience a touch of luxury
At Fusion Shutters and Blinds we are all about offering the latest in product innovations and want to provide you a solution that can integrate seamlessly with the technology of modern homes. Explore our Somfy home automation system that pairs beautifully with our motorised curtains and roller blinds for an enhanced level of convenience and modernity. Control your window furnishings with the touch of a button!
Don't just take our word for it!
There's more! Our friendly, professional staff are always at hand to assist you with all your queries. Whether you need help understanding how a product operates, picking out the perfect blinds for your space, or organising a free in-home measure and quote, we are here to help.
We are open from Monday to Thursday between 9 am and 5 pm, on Fridays from 9 am to 4 pm, and on Saturdays from 9 am to 1 pm. So please, come, step into our world of superior quality, stylish blinds and shutters. Let us help you transform your home with our wide range of offerings. Your dream home is just a visit away!